Massive Apartment Fire Forces Worker to JUMP!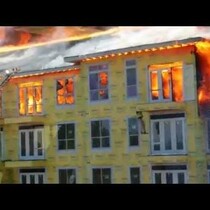 Posted March 26th, 2014 @ 2:49pm
Wow! This is probably the most intense video I've seen in a long time! An apartment complex near the AIG Campus was on fire, forcing a construction worker to jump from the top floor while waiting for rescue! If that wasn't stressful enough, he and the fireman that rescued him narrowly avoid the debris after the top floor collapses! Thank God, they are both safe in the end.